At Edison, leadership, teachers, and parents work collectively to provide students with a strong educational experience. One component of the educational experience at Edison involves the celebration of learning through community events. The Parent Teacher Association (PTA) in collaboration with a team of teachers on the Parent Engagement Committee, plan a variety of community events throughout the school year which support parent involvement, student presentations and performances, community building, and fundraising.
Back to School Night and Lawn Party
At the beginning of each school year, the teachers and PTA plan a Back-to-School Night and Lawn Party. Parents and students come to school to learn about the expectations for the school year, as well as opportunities for after-school enrichment classes. Families bring a picnic dinner and enjoy a relaxing social event on the field. Then, students can drop off their school supplies while parents learn about the classroom expectations and grade level standards.
Eagle Run
The Eagle Run is Edison's annual team-builder and run-a-thon fundraiser which takes place during the school day in September. This exciting fundraiser focuses on team-building, health, fitness and reaching personal goals. All Edison students are encouraged to participate, set-goals, cheer-on their classmates and run as many 1/8 mile laps as they can during the run. Students are also encouraged to get as many pledges as they can to help us all reach our goals! The Eagle Run raises over $20,000 for the Edison PTA/school through per lap pledges and lump sum donations.
Fall Festival
The Fall Festival is a fun-filled after-school event in which the teachers and the PTA plan Fall and Halloween activities for students. Students enjoy going through a haunted house, playing in the bounce house, playing fall games, and getting their faces painted. The money raised at this event goes directly to teachers to support classroom activities and lessons.
Science Fair
At the annual Science Fair, students present their science projects to their peers, teachers, and parents. Students who are interested participating in the Science Fair can demonstrate their knowledge and scientific investigation through projects/experiments of their choice. The winners go to the DPS science fair in the Spring to compete district-wide.
Music, Art and Dance Performances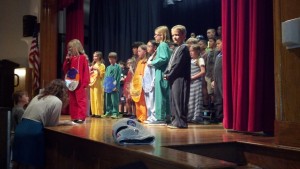 The specials team at Edison is determined to provide our students with a balanced educational experience enriched with visual arts, instrumental and choral music and physical education. Every year, students in every grade level perform a musical for families and friends in our lovely auditorium.
Thanksgiving Lunch
The lunchroom staff at Edison is committed to providing a healthy, tasteful lunch every day for our students. Near Thanksgiving, however, the cafeteria staff invite the community to join the students in the cafeteria for a Thanksgiving feast. Turkey, mashed potatoes, stuffing and even pumpkin pie are served.
Bagels and Books
We love books at Edison! Each December, we celebrate reading with a morning of literacy. Children are encouraged to dress as their favorite story book character for the day. We have bagels (and other morning treats) and coffee in the gym. A special guest reads a book to the crowd. Lastly, the Scholastic Book Fair is set up in the auditorium for all those interested in purchasing new books.
Build-It Night
Imagine the Edison cafeteria filled with children and their parents hammering, gluing and laughing as they make bird houses and pencil boxes. The PTA organizes this evening of building small wooden projects donated by Home Depot. Students learn math, creativity, and building skills as they enjoy the evening with their family! (Siblings, grandparents, aunts and uncles… all are welcome!)
Rock the Night Away Family Dance
The Edison gym gets transformed into a dance hall complete with decorations, chocolate roses, music, and a professional photographer! The PTA organizes this fancy evening for parents and their children to enjoy each other. Some families take advantage of this event for daddies to have a special date with their daughters or for mothers to have a special date with their sons but all families are welcome!
Passions Day
For Passions Day, Edison parents, friends and community members prepare presentations about their own passions to share with students. Classrooms rotate through several presentations throughout the day so students can learn about a variety of topics and activities.
Multicultural Festival
Edison's diversity is one of our most valued qualities! Therefore, in March we host a Culture Night. We invite families to bring a food item to share which represents their culture or a family tradition and have a feast in the cafeteria. Students create a 'culture museum' for everyone to wonder through. Students perform dances from around the world. And finally, the Mizel Museam exhibit is open in the auditorium.
"EdFest" Edison Auction Fundraiser
The Edison PTA is committed to supporting education at Edison. Thus, the PTA not only supports all community events at Edison, but also does fundraising for the school. The annual Edison Auction called "EdFest" is a silent and live auction hosted by the Edison PTA. This adult only party both celebrates the Edison community and raises much needed funds for the school. This fundraiser has provided funds to Edison to purchase books for the library and a computer laptop lab, in addition to supporting "Gotcha" parties, Thursday folders, and community events throughout the year.
Earth Day Parade
On Earth Day, Edison's students, staff and parents parade around the school cleaning up the neighborhood. Additionally, students create recycled hats and wear them with pride!
Student Enrichment Day
Students come to school every day knowing that they will work to improve their skills in reading, writing, math, science, and social studies. They work hard to gain the necessary knowledge to be successful when they grow up. On Student Enrichment Day, however, students have the opportunity to learn about and experience something of interest to them. From poetry to animals to volcanoes to African art to math rap to lasers to geology. Teachers, parents and community members lead these in-depth learning seminars that engage students in interesting and different topics.
Field Day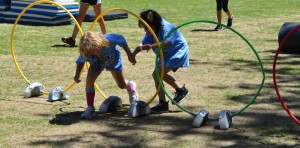 Run, jump, skip, throw!!! Each May, Edison's physical education teacher, Mr. Auday, organizes Field Day for the students. Sports and competition are the theme of the day as students all over Edison's field compete in a variety of fun, physical events.
ECE and Kindergarten Continuation
It is important to recognize and celebrate major accomplishments in one's life, and this begins in ECE and Kindergarten. As students learn and grow, we want them to know that they will be supported and encouraged. At the ECE and Kindergarten continuations, parents, teachers and students celebrate the movement to their next grade level.
5th Grade Continuation
Moving from Elementary school to Middle School can be a scary and exciting time. Students are growing up, moving toward adolescence, and preparing for a more independent learning environment. At the 5th Grade Continuation, we celebrate the accomplishments of our 5th Graders and wish them success as they transition to their new school.
Talent Show
Singing, dancing, hoola-hooping, piano playing, and more! On the very last day of school each year, we have a talent show. The students perform their fantastic performances for their peers in a fun and exciting ending to a wonderful year.