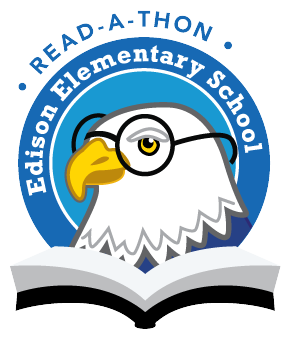 Thank you for participating in Edison's Eagle Read-A-Thon, Edison's fabulous Winter Break reading program, now in its 3rd year! Students challenge themselves to see how many minutes they can read during the 18-day Winter Break.
Watch our amazing launch video:
Eagle Read-A-Thon Kickoff Video
Talent by Edison Staff
Music by the Black Eyed Peas
Lyrics by  N. Nasrallah, J. Bergh, Ocoee Middle School
FAQ
1. Why are we doing a Read-A-Thon?
Short answer: Reading is awesome! Kids who read regularly do better in school.
Longer answer: The Eagle Read-A-Thon's primary goal is to get ALL of our kids reading this winter! Along your reading journey, we hope to raise money for books for Edison. We can always use books for Classroom Libraries, the school Library, and the school Book Room. It's easy to participate. In between celebrating the holidays, visits to friends and families, sledding, video games, board games, skiing, snowboarding, or ice skating, keep track of the time spent reading. Students who read, but do not raise money, are still eligible to participate and win prizes. If you wish, you can also get sponsors to donate money. You don't have to fundraise to participate in the Eagle Read-A-thon!

2. Goals
Participation goal: 100% Participation from ALL Students! Students can strive to read 10, 20, 30 minutes – or more! Pick up a book and read, and grow your brain!
Fundraising Goal: $10,000 for books! If every student receives at least a $20 pledge, we'll meet our goal! Last year we raised over $11,000, which provided over $4,000 of books to our classroom libraries and over $6,000 to our school library!
Class Goal: Each classroom will set a reading goal with the number of minutes they will collectively read.
3. Dates – what are all the dates I need to remember?
Nov 10: First Friday Assembly:Kids will learn about the read-a-thon
Week of Nov 13: Family letter and pledge book given to all kids before Thanksgiving Break. Kids will set a personal goal and ask friends and family to support literacy at Edison by pledging a flat amount or by the minute for the time read. Names and Emails/Addresses needed for each potential sponsor. We will contact them on your behalf. We know it's a busy time of year!
Week of Nov 27-12/1: Pledge books due back at school. We'll contact sponsors for you!
Dec 5: Reading is Fundamental free book distribution day; 12/6 for 5th grade only
Dec 12-14: Scholastic Book Fair
Dec 14: Send home Reading Log in Thurs Folder (12/16 for kindy only); Literacy Night
Dec 22: Dress like your fave book/story character day! Students AND Teachers!!!
Dec 22-Jan 7: Winter Break – READ as much as you can!
Week of Jan 8-12: Reading Logs due back; small prize given to all students returning logs.
4. Pledges – How do I fill out the pledge forms?
PARENTS: Provide us with the names and emails or addresses of people who'd like to sponsor your child.
STUDENTS: Include your Reading Goal and a short message for your sponsor.
We'll send them a link to our website and/or a SASE envelope to return back to us.
Sponsors may pledge in one of two ways: 1) a specific amount or 2) 'per minutes' read.
5. Safety
Collect pledges only from people you know. Do not ask strangers.
We only contact the potential sponsors about this Read-A-Thon.
6. Payment – how and when?
Any sponsors pledging a flat amount can pay at any time. Sponsors paying by the minute will be contacted by the Read-A-Thon Committee in January with the amount due.
Checks should be made out to Edison PTA.
Online credit card payments can be made here. All money raised will be granted to the school in February to purchase books.
7. What kind of reading counts?
ANY means of reading over Winter Break counts!
Independent reading- reading alone. Counts!
Side-by-side reading – reading with a little help from someone. Counts!
Picture reading – pre-readers and picture stories for beginning readers. Counts!
Parents or siblings reading to you counts!
Reading to a pet counts!
Audiobooks count!
Read while parents are making meals.
Read before bed.
Read in the car or on the plane.
All types of reading materials count: Non-fiction, fiction, magazines, e-books all count!
8. What do we do with the Reading Log?
Have your child enter the minutes read per day in each circle of the Reading Log. Have them read as many days as they can.
Please return your completed Reading Log to your teacher beginning Jan 8 and no later than Jan 12 to be eligible for the Top Readers and Most Class Participation prizes. Students will receive a small token for returning their Reading Log. If you lose the Reading Log, ANY paper tracking the minutes will do; just be sure the student's name and teacher are legible!
9. Turning in pledges – when do I collect pledges?
Short answer – you don't have to!
Longer answer: If pledges are 'per minute', our committee will reach out to those sponsors after Reading Logs are turned in. If pledges are a flat rate, sponsors can pay any time at our website https://tinyurl.com/yc7zfr8g, or by mailing in a check in the SASE supplied. Pledges are due by March 30.
10. Prizes
10a. Do only kids with sponsors receive prizes?
No way! We are rewarding the great efforts of our Eagle Readers!
Each student who turns in a Reading Goal/pledge request form between 11/27 and 12/1 will receive a small prize.
Each student who turns in a completed Reading Log between 1/8 and 1/12 will receive a small prize.
A prize will be awarded to the highest number of minutes read by an individual student in each grade.
A classroom in both primary (K-2) and secondary (3-5) that has the highest participation as judged by Reading Logs received back will receive a class party. Last year, we did 3 parties!
10b. But my child is a reluctant reader…
We hope this will help motivate~ We are also awarding students with raffle tickets who have turned in their Reading Log by Jan 13. Minimum minutes read required:
ECE/Kindergarten 1 ticket per every 200 minutes
1st grade 1 ticket per every 250 minutes
2nd grade 1 ticket per every 300 minutes
3rd grade 1 ticket per every 350 minutes
4th – 5th grades 1 ticket per every 400 minutes
11. Have questions?
Please email us: edisonreadthon@gmail.com
"i do believe something very magical happens when you read a good book" j.k. rowling